DENT PULLING SOLUTIONS
WEL16000, WEL21000 & WEL18000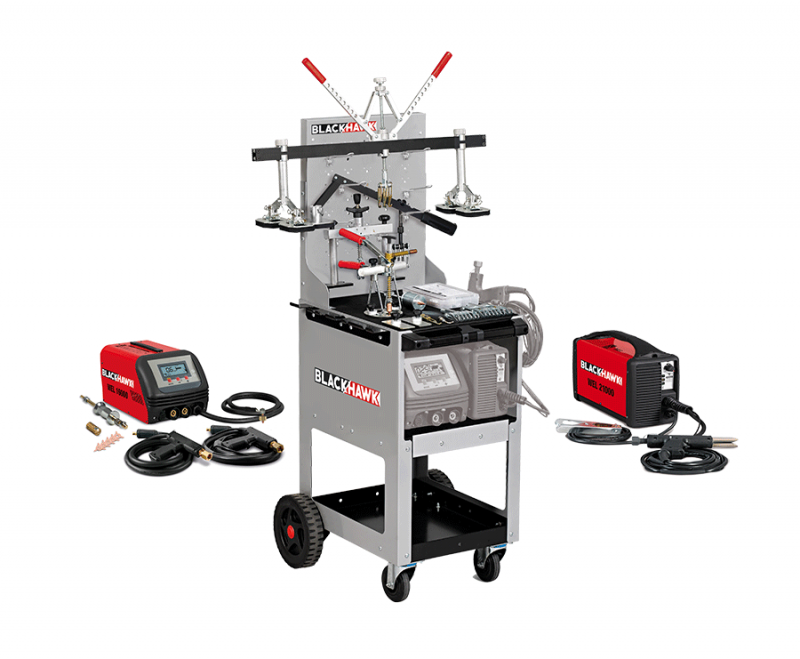 WEL16000
WEL16000 is a microprocessor controlled dual gun spotter for the repair of sheet metal. Perfect fit for use in autobody repair shops.
Dual Gun Spotter, Single phase 230V
WEL21000
The WEL2100 is a portable aluminum dent puller that gives rapid welding and pulling thereby reducing repair times. It is suitable for applications in car body shops.
Aluminum Dent Puller, Single phase 230V
WEL18000
WEL18000 is the perfect solution for Aluminum & Steel dent repair. The dent puller station is equipped and designed to fit both WEL21000 Aluminum Dent Puller and WEL16000 Dual Gun Spotter.
This station is a complete mobile workstation equipped with the tools technicians need to properly repair dents in aluminum, steel sheet metal body panels and hoods. It includes multilevel, traction bar, pull system and accessories.
Aluminum-Steel Dent Puller Station
TECHNICAL SPECIFICATIONS
| | | | |
| --- | --- | --- | --- |
| |  WEL16000 |  WEL21000 |  WEL18000 |
|  Power supply: |  230 V – 1 ph |  230 V – 1 ph |  – |
|  Max. Power: |  10,5 kW |  10 kW |  – |
|  Dimensions: |  390x260x225 mm |  450x150x270 mm |  450x150x270 mm |
|  Weight: |  24 kg |  11,7 kg |  11,7 kg |