INDUCTION HEATERS
H4PRO, IHR11 & IHR15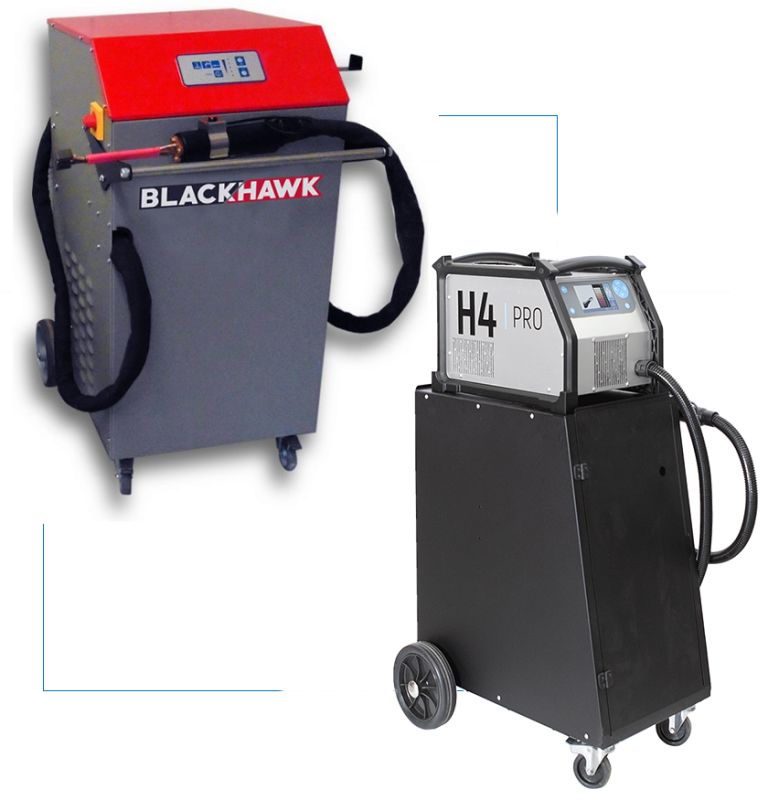 The Blackhawk high performance induction heaters safely meet all your heating needs. Since there is no open flame work can be carried out with no risk of damage to
surrounding parts and cables. As opposed to heating with an open flame, the induction process enables the metal to be heated with precision, directly in the heart of the metal, at a localized spot up to 5mm in depth.
Ideal for straightening, bending and loosening of seized-up pieces, these induction heaters produce heat only at the point of contact bringing the metal almost instantaneously to a uniform temperature of 500 to 600°C for safer, more accurate heating.
The mobile H4PRO offers preset configurations tailored to your service needs without giving up the manual control system.
Designed for precision, the H4PRO comes loaded with a number of specific programs dedicated to regular tasks.
From simple wheel bolts release to wheel alignment applications or customized OEM programs, easily select the job you need to work on, and H4PRO will automatically deliver the ideal set-up.
TECHNICAL SPECIFICATIONS
| | | | |
| --- | --- | --- | --- |
| | H4PRO | IHR11 | IHR15 |
|  Power supply: | 204V, 1-phase, 50-60Hz | 400 V – 50 Hz | 400 V – 50 Hz |
|  Max. Power: | 3,7kW | 11 kW | 15 kW |
|  Water cooling: | 20l | 20I | 20I |
|  Cable network: | 9m | 9m | 9m |
|  Inductor cable: | 3m | 3m | 3m |
|  Dimensions: | 440 x 325 x 320mm | 500x600x1100 mm | 500x600x1100 mm |
|  Weight: | 13 kg | 120 kg | 145 kg |